European Industrial Doctorate (EID) for enhancing upstream biopharmacuetical manufacturing process development through single cell analysis
STACCATO was a European Industrial Doctorates project funded under the Marie Sklodowska-Cure Action of Horizon2020. It has been specifically designed to strengthen Europe's innovation capacity and leadership in biopharmaceutical manufacturing science by providing world-class intersectoral training to 11 Early Stage Researchers (ESRs) and creating and applying pioneering manufacturing process development approaches for biopharmaceuticals. The STACCATO partners were united by the shared vision to utilise high-resolution data captured simultaneously from thousands of single cells to develop new manufacturing methods for biopharmaceuticals.
Overcoming the inherent heterogeneity of cells grown in vitro to deliver effective, uniform and safe biological medicines has been one of the most significant challenges faced by the industry in recent years. The STACCATO research programme was set up to develop state of the art single cell analysis methods to characterise the molecular heterogeneity of cell populations utilised in the
biopharmaceutical industry.
Biopharmaceuticals have revolutionised the treatment of chronic diseases and its industry is under considerable pressure to produce "first-in-class medicines" in a cost-effective and safe manner. The primary objective of the STACCATO research programme was to utilise high-resolution analysis of DNA, RNA and proteins from single cells to enhance the efficiency of manufacturing processes and ensure patient safety for a range of biopharmaceuticals.
The main objectives of the STACCATO intersectoral training programme were to provide the ESRs with unique multidisciplinary scientific training by teaching them essential theory as well as developing the practical skills required to prosper in a biopharmaceutical manufacturing research environment based in either industry or academia.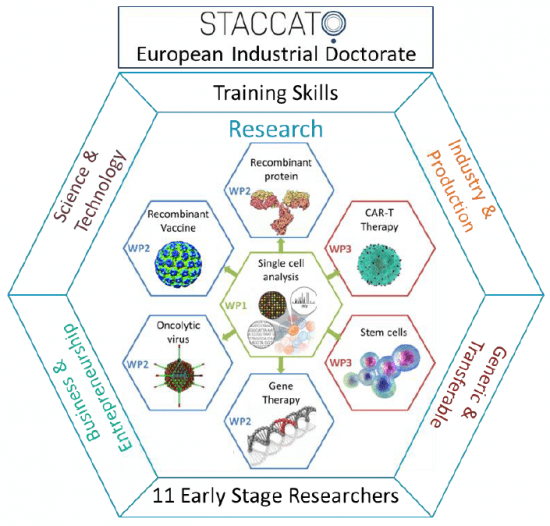 With STACCATO EID partners' scientific excellence, industrial expertise and infrastructure, the project was well set to provide a biopharmaceutical manufacturing training programme. ESRs engaged in a ground-breaking research action aiming to develop single-cell analysis methods for biopharmaceutical manufacturing, improve the performance of cells in biopharmaceutical factories and enhance manufacturing processes for cellular therapies.