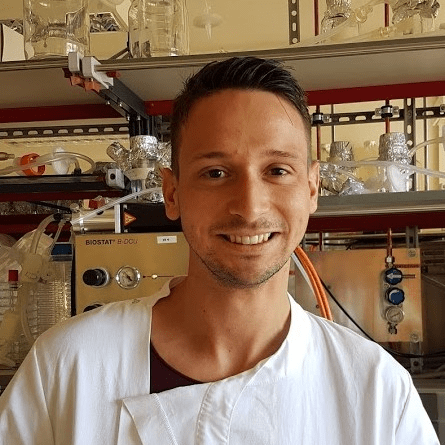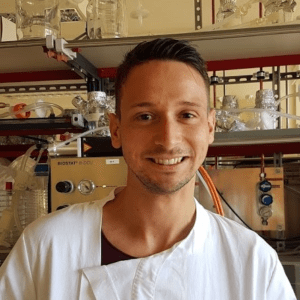 Individual Project
Combining single-cell analysis with systems biology to fine-tune production of rAAV vectors in insect cells.
STACCATO Research
The focus of my research will lay on the improvement of the production process of recombinant adeno-associated virus (rAAV) vectors in Sf-9 insect cells. Considering that I will combine molecular signatures of cells during rAAV production with metabolomics and fluxomics information to assist bioprocess optimization and to increase the knowledge of the underlying biological mechanisms.
Scientific Background
I started my academic training with a bachelor's degree in "Food Science and Biotechnology" (2017) followed by a master's program in "Biotechnology" (2019) from the University of Natural Resources and Life Sciences (BOKU).
During my bachelor thesis I worked in the Institute of Environmental Biotechnology (BOKU), where we improved the production of Polyhydroxyalkanoats in Cupriavidus necator. During my master's thesis internship, I joined Prof. Nicole Borth's research group in the Department of Biotechnology of BOKU. Here, my focus lay in increasing the understanding of cellular responses involved in adaptation to external stimuli in CHO cells.
My PhD work within the European Industrial Doctorate program STACCATO will be carried out mostly at the Animal Cell Technology Unit of iBET, with secondments at University College Dublin and MeiraGTx.
Publications
DOI: Virgolini N. (ESR8), Hagan R. (ESR6), Correia R., Silvano M. (ESR7), et al. (2022), Transcriptome analysis of Sf9 insect cells during production of recombinant AAV. Biotech. Journ. 2200466. November 19, 2022.
DOI: Virgolini N. (ESR8), Silvano M. (ESR7), Hagan R. (ESR6), et al. (2022), Impact of dual baculovirus infection on the Sf9 insect cell transcriptome during AAV production using single-cell RNA-seq. Authorea. December 16, 2022.
DOI: Silvano M. (ESR7), Correia, R., Virgolini, N. (ESR8), et al. (2022), Gene expression analysis of adapted insect cells during influenza VLP production using RNA-sequencing. Viruses 2022, 14(10), 2238.
DOI: Louro A.F., Virgolini N. (ESR8), Paiva M.A., et al. (2022), Expression of Extracellular Vesicle PIWI-interacting RNAs over hiPSC-cardiomyocyte differentiation. Front. Physiol., 16 June 2022.
One further publication is being prepared for submission to a peer-reviewed journal in 2023.
Conferences
Oral presentations:

12th ITQB NOVA PhD Students Meeting, Lisbon, Portugal, 20.04.22.
Transcriptomic analysis of insect Sf9 cells during rAAV production at bulk and single-cell level.

Oral presentations:

European Society for Animal Cell Culture Technology (ESACT), Lisbon, Portugal, 26. – 29.06.22.
Single-cell and Bulk RNA sequencing of insect Sf9 cells during rAAV production.

Poster presentations:

11th ITQB NOVA PhD students meeting, Virtual, 18.02.21.
Combining single-cell transcriptomics with systems biology to fine-tune the production of recombinant Adeno-associated virus vectors in insect cells.

Poster presentations:

European Society for Animal Cell Culture Technology (ESACT), Lisbon, Portugal, 26. – 29.06.22.
Single-cell and Bulk RNA sequencing of insect Sf9 cells during rAAV production.

Poster presentations:

ESACT Frontiers, Vienna, Austria, 26.10.22.
Single-cell transcriptomics highlights heterogeneity in Sf9 insect cell cultures during AAV production.
Youtube: Virgolini, N. (ESR8) presenting his poster: "Single-cell and bulk RNA sequencing of insect Df9 cells during rAAV production"