Attending scientific conferences is a key way for young researchers to receive feedback from other scientists, explore possible collaborations and establish a professional network for future opportunities. Thus, I was very happy that I and other ESRs (Marco, Kelly, James, Brian, Ryan and Alan) attended this year's "European Society of Animal Cell Technology" (ESACT) Meeting, which took place in my beautiful host city Lisbon (Portugal) from the 26th to the 29th of June. The event organised under the banner of "Advanced Cell Technologies: Making Protein, Cell, and Gene Therapies a Reality" brought together worldwide experts from the animal cell technology field. You can get more information on the conference or the society following these links.
The scientific committee approved my research being presented in poster format during several sessions throughout the conference. My work "Single-cell and Bulk RNA sequencing of insect Sf9 cells during rAAV production" was also selected for a 3-minute "flash presentation" in the main auditorium in the "Poster Student Highlights" session. While it was nerve-wracking to speak in front of an auditorium of more than 400 people, I was also very happy for the great opportunity to make people aware of the research we conduct at iBET within the STACCATO project.
---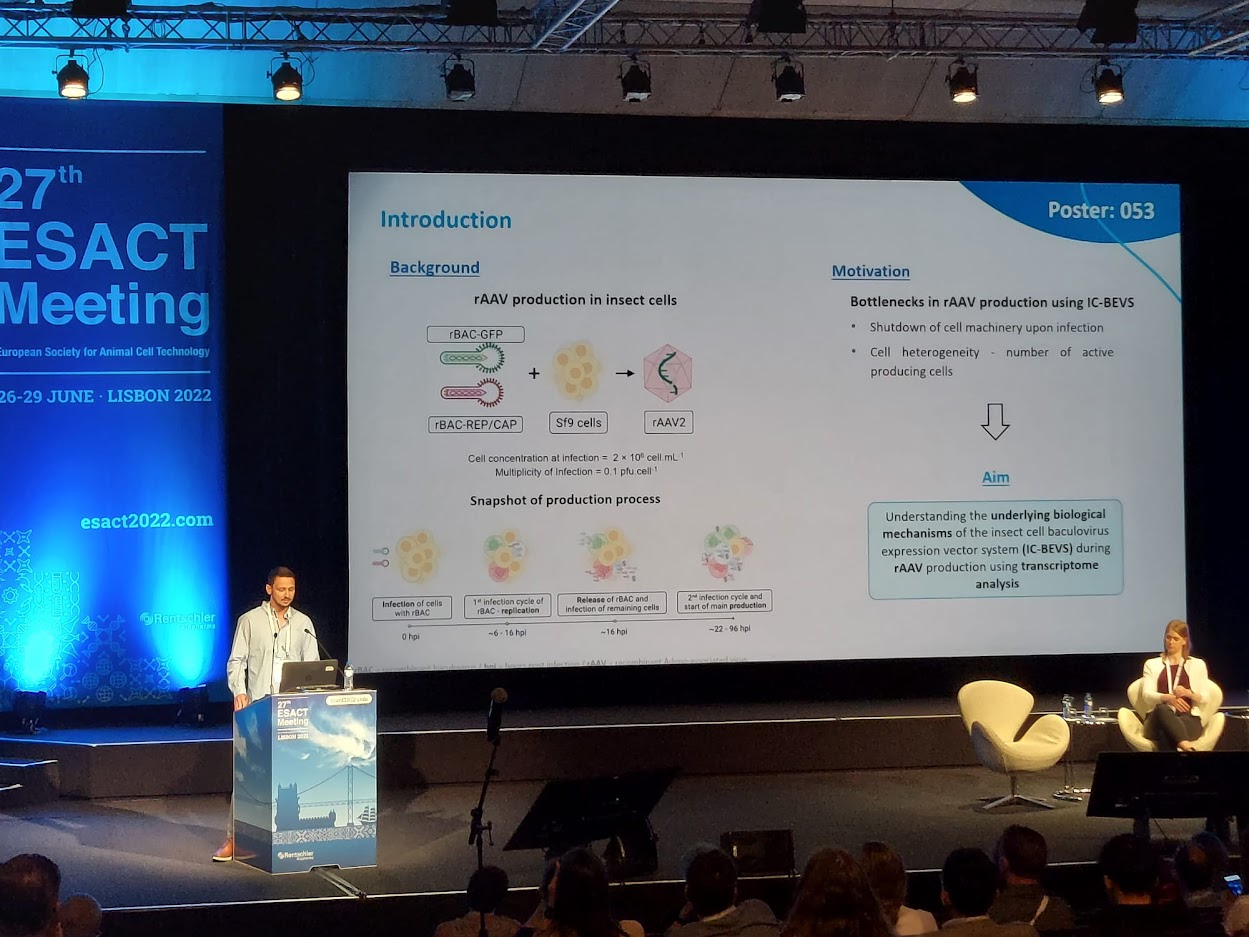 In the poster session, several people showed interest in my research approaching me with questions. I enjoyed the scientific discussions, insightful questions, valuable feedback and suggestions to collaborate.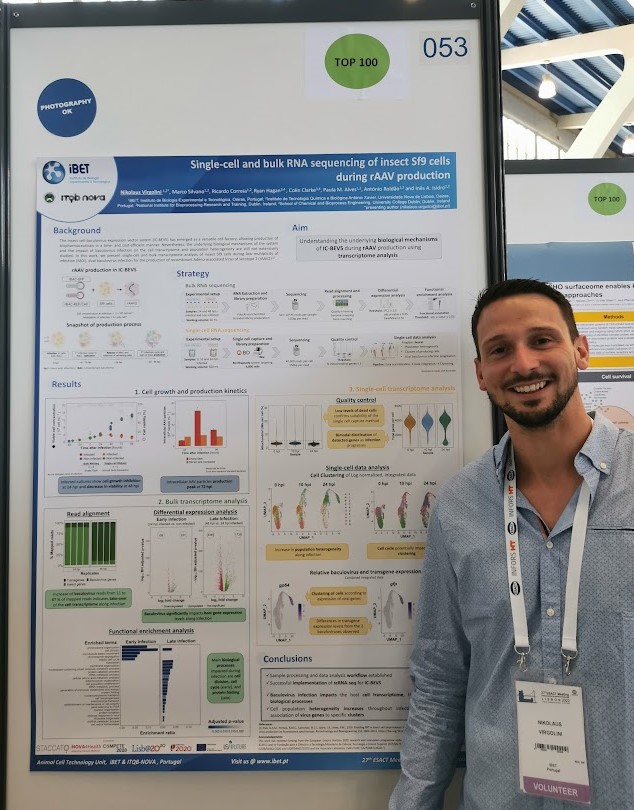 Additionally, STACCATO organized a workshop on "Single cell omics" under the lead of our PI's Colin Clarke and António Roldão. In this workshop important experimental and data analysis aspects of single-cell RNA-seq were presented. This was followed by ESR-led discussions in working groups on how to apply the method in the fields of recombinant protein production, gene therapy or cell therapy. Overall, the workshop was a great success with more than 70 attendees interested in how to include single cell RNA-seq in their projects.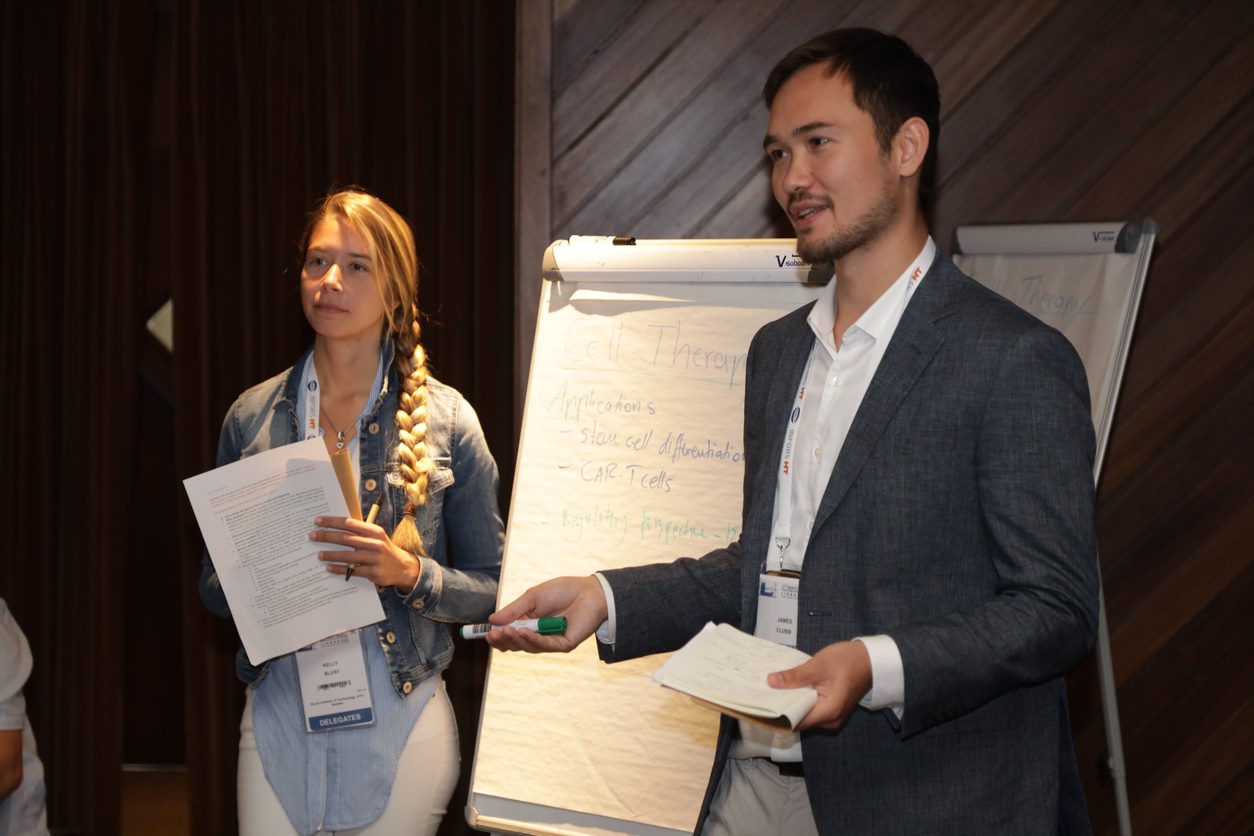 STACCATO's single cell omics workshop at ESACT 2022
Next to all the inspiring and insightful scientific talks, ESACT was also an unique opportunity to network and to catch up with my fellow ESR's, some of which I haven't seen in person for more than 2 years due to the COVID-19 pandemic.
Overall, I think the conference was a great success and an amazing opportunity to highlight the research we do within STACCATO. I can only recommend every early-stage researcher attending scientific conferences in fields of their interest.